Follow
The Real Deal
on Facebook
The Real Deal has been published by Rupa Publications in July 2016.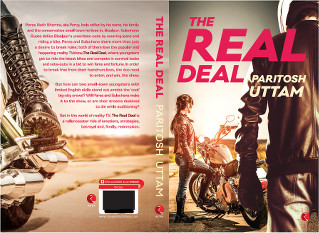 Listing a few online stores which show The Real Deal available for purchase. All the links will open in a new page.
Paras Nath Sharma, aka Percy, feels stifled by his name, his family and the conservative small town he lives in, Bisalpur. Sulochana Gupta defies Bisalpur's unwritten code by wearing jeans and riding a bike. Paras and Sulochana share more than just a desire to break rules; both of them love the popular and happening reality TV show, The Real Deal, where youngsters get to ride the latest bikes and compete in survival tasks and vote-outs in a bid to win fame and fortune. In order to break free from their humdrum lives, the duo need to enter, and win, the show.
But how can two small-town youngsters with limited English skills stand out amidst the 'cool' big-city crowd? Will Paras and Sulochana make it to the show, or are their dreams destined to die while auditioning?
Set in the world of reality TV, The Real Deal is a rollercoaster ride of emotions, strategies, betrayal and, finally, redemption.